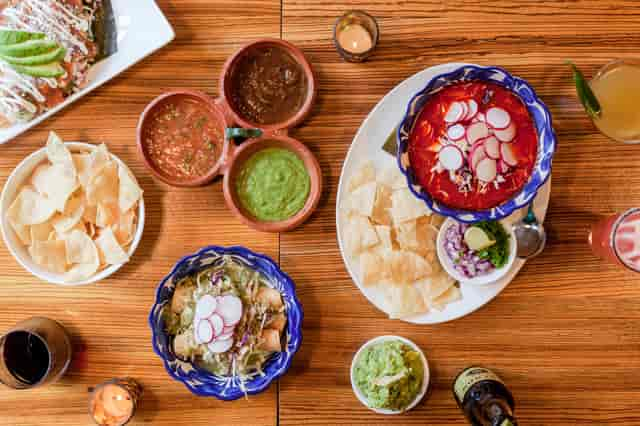 Moderno- Behind the Scenes
The Mexico Mule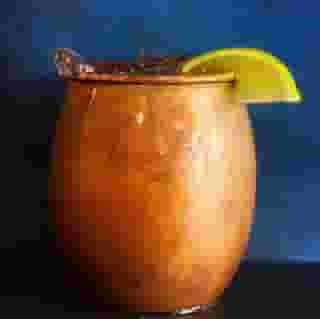 The Mexico Mule has become one of our most popular house cocktails; at least for those who like a bit of heat! 

Being located in the same building as The Moore Theatre, we needed to come up with a drink that paired well with our food, and was quick and easy to make for our pre-event crowds!

Ingredients:
1 Bottle of 100% agave blanco tequila
3 Serrano peppers
Fresh squeezed lime juice
Ginger beer
Copper mule cup
Ice

Prep:
Fry 3 Serrano chiles. Slice each pepper ¾ of the way lengthwise. Add peppers to the bottle of tequila and steep for 24 hours. You can then remove the peppers or leave in according to desired heat level.
Directions:

Fill Mule cup to the top with ice. 
Add 2 oz. of Serrano infused tequila.
1 oz. lime juice
Top off cup with ginger beer.

*Option. Slap a few sprigs of mint between your hands and add to The Mexico Mule for additional brightness.

Salud!
Cochinita Pibil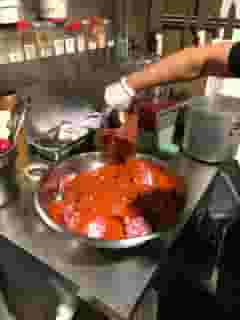 Pulled pork from the Yucatán

Ingredients:
20 lbs pork shoulder (cut into large cubes)
Banana leaves
3 yellow onions (sliced)
2 bunch Cilantro leaves

For the marinade:
1 yellow onion
1 head garlic (peeled)
1 bar (15oz) Achiote
15 dried guajillo chiles (stems removed)
1/3 cup salt
1 tsp. ground cinnamon
1 tsp. allspice
1 tsp. cumin
1 tsp. dried oregano
2 cups orange juice
1 cup lime juice

Slaw Topping:
Red onion (thinly sliced)
Habaneros (thinly sliced)
Fresh oregano
Fresh lime juice

Instructions:
Add together all the ingredients for the marinade in a food processor and puree. Put the pork, onions and marinade in a large bowl and mix together. Pour the mixture into a banana leaf lined pan and top with cilantro. Seal the pan with the banana leaves, cover the pan with the lid and put in the oven at a low temperature for 12 hours.

For the slaw topping: put the red onion, habaneros and oregano in a bowl and cover them with lime juice and refrigerate until the pork is done.

When done cooking, shred the pork, place in a warm tortillas and top with the slaw.